Funding Art on The Blockchain (Peatar)
*Update – On 4/20, 2 hours after placing Peatar Up for sale, he was bought for 1 ETH 🙂 – you can still buy him from the original patron using the link.
—
The Non-Fungibles is an experimental cartoon that experiments with the idea of digital collectibles as an additional revenue source for creatives.
Video: Free Peatar
Peatar is a verifiably scarce digital collectible who can be traded on open markets. You can buy him using Ethereum here.
In buying him, you hold the private keys to a time stamped contract that verifies you own "the official digital version" of Peatar. Which is an image hosted on IPFS (the InterPlanetary File System) that looks like this…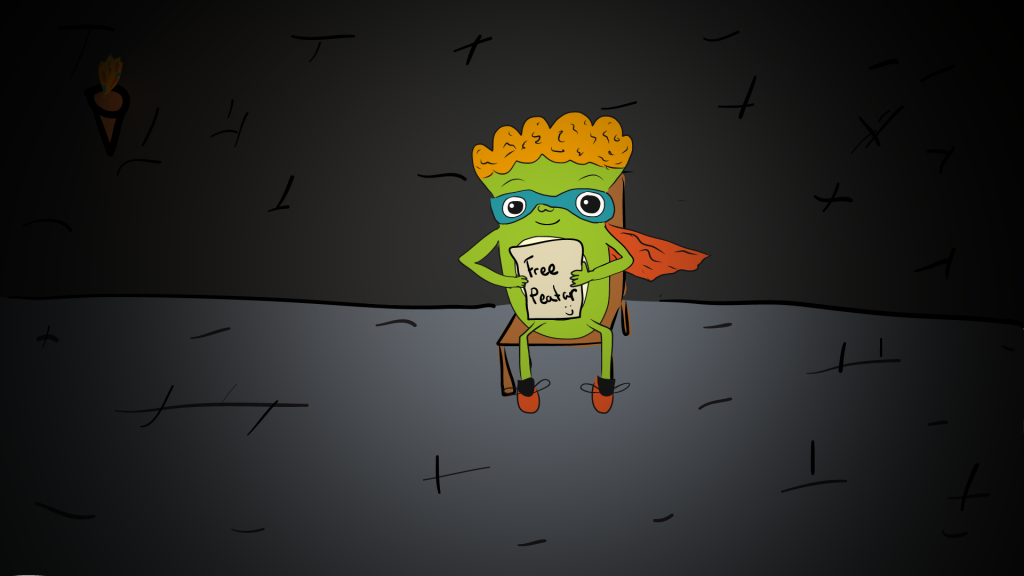 In owning "the official digital version" of Peatar, others can still see the image. You receive no rights to change his character. No royalties. You really don't get any power at all… except…
What if The Non-Fungibles becomes a cult success? What if this new way of funding art takes off, all thanks to Peatar, The Fearless Leader of The Non-Fungibles?
Imagine if you were able to buy the verified first digital version of Bart Simpson back in the day… probably would be worth something today. 
If Peatar becomes 'famous' more people would likely want to own the official digital version, and the owner of the digital collectible can sell Peatar on the free market when the price is right.
Digital collectibles enable a new relationship between creators and patrons:
Digital collectibles allow creators to focus on creating their primary creation – not creating rewards like t-shirts and thank you letters.
Patrons now receive something that makes them economically incentivized to support and spread the gospel of the creator. Their verifiable record that 'they liked it before it was cool' becomes more valuable with the success of that creation.
Ex:
Imagine a world where musicians can sell a "digital original version" of their song in addition to the normal release as an added source of revenue for the artist. For the patron, if that song became #1… official collectors proof that they liked it before it was cool + future profit.
"Sure anyone can download Abbey Road for free – but I'd still drop 100gs on the original vinyl." – Peatar
Blockchain digital collectibles are better than other digital collectibles:
You've maybe seen those $5 limited edition stickers on Facebook. Well, those only work because they are controlled and 'limited' by Facebook, within the Facebook ecosystem. They must remain within the walled garden of Facebook.  Under Facebook's rules.  If Facebook disappears – so do your stickers.
Blockchain collectibles live on a publicly owned blockchain that can track ownership of digital items – and create digital scarcity. Just like you can't copy and paste a bitcoin, you can't copy and paste the smart contract that says you own Peatar.
SuperRare & Secondary Markets
To link Peatar to the blockchain I partnered with superrare.co – however, Peatar doesn't only live within superrare, he can be traded anywhere peer to peer. Superrare is a service provider (linking him to the chain) and a marketplace (hosting a sale page). But again, the Peatar contract is free to float around the internet, not confined to the superrare platform.
Why SuperRare:
I chose superrare.co for a number of reasons, but one thing I liked was that SuperRare codes their smart contract so that creators (in this case me) receive 10% of all secondary market sales.  Meaning if Peatar is traded for 100 ETH in 5 years – I'll automatically receive 10 ETH as the creator. The secondary buyers and sellers don't have to know me or send it to me. I don't have to trust them. It all just happens automatically thanks to smart contracts on the Ethereum Blockchain.
Meaning blockchain based digital collectibles can enable an additional and perpetual source of revenue for creators.
That's rad.